Our Shih-Tzu´s
---
Vixax Margareta Krook * 2008-05-23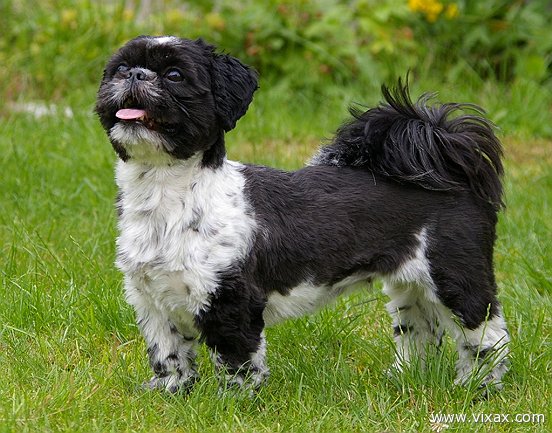 Regnr: S48157/2008
Kön: Tik
Färg: Svart-vit
Hårlag: Långhårig
Övrigt: Maggan bor hos min lillasyster Erika i Göteborg och kommer att paras så småningom
Collchows Mitch


Zansaw's Crash Boom Bang

Zansaw's Dirty Dancing
Zansaw's Scarlet O'Hara
Collchows Chikita
Fannica's Häftiga Harald
Tangse Ninja

Red Deegos Spirit of ecstasy

FIN CH
Leeweard's Shere Khan
FINCH
Kareth Khan
Bombers Ofrah Hazze

FINCH RUSCH ESTCH & BALTWINNER -00,-01
Thunderclap Guzel Kiz

INTCH ESTCH LVCH BLRCH & LVW -96
Tontos Airman

INTCH ESTCH BLRCH RUSCH LTUCH LVCH & BALTW -96
Connetctionstar Di Casa Corsini
---
Big-Choice Hopes Victoria-Agnes *2006-02-22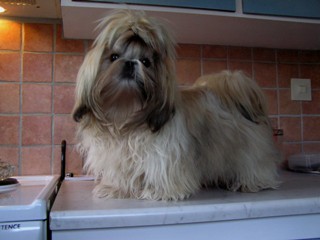 Vixax High Hopes


Santosha Midnight Caller

GBCH


Rosaril The Chimney Sweep
Santosha Lady In Red

Vixax Amber

DKUCH SUCH


Fossella Cottoneyed Joe

Tultan's Cita

Norduch
Tangse Diamond Gun

Tangse Wiseguy

FINUCH INTUCH NORDUCH NV-96


Formaregårdens Zorro


SUCH


Tangse Sharon Wee

FINUCH SUCH


Båga's Columbin

DKUCH INTUCH JWW-96 NORDUCH SV-97 SV-98
Tangse Rock-A-Billy Rebel
Agnes is my most reasent breeding female, she has a wonderful head, good coat, super temperament.
I plan on her small size and wonderful head to be a good asset to my breeding.
---
Red Deegos Spirit of ecstasy-Pekkerelli *03-10-07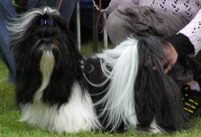 FIN CH
Leeweard's Shere Khan
FINCH
Kareth Khan
GBCH
Mort of Bellakerne at Lharing
GBCH
Kareth Kharisma
Bombers Ofrah Hazze
INTCH SCH NCH
Grandavon Viceroy
INTCH NCH SCH
Bombers Let's Have Rythm
FINCH RUSCH ESTCH & BALTWINNER -00,-01
Thunderclap Guzel Kiz
INTCH ESTCH LVCH BLRCH & LVW -96
Tontos Airman
Mintzun Indiana Mac
Kin-Dais Queen of Spades
INTCH ESTCH BLRCH RUSCH LTUCH LVCH & BALTW -96
Connetctionstar Di Casa Corsini
Gremar Tail of Two Cities
Rifai Tsan V.H Martinihaim
Pekkis was imported fom Finland, with her in my breeding I hope to get better movements, and a better set tail..
She is a super nice dog and her first litter is extremly promising

---
Gärborgens Bonzo
SUCH
Tangse Chagall
SUCH
Pekings Just Brandy Tangse
Tangse Cassandra Wee
Sou Tsian's Chippa
Laban
Håkåsens Sandra
Tultan's Candy
Blackie
Trassel's James Bond
Yung Lo's Hot Jazz
Mamsell
Priffe
Sandra

Smulan is my oldest shih-Tzu, she has had one litter and is just a very nice pet dog.
She has a wonderful head good coat and a very nice temperament
---
Vixax Amber -Signe *00-03-15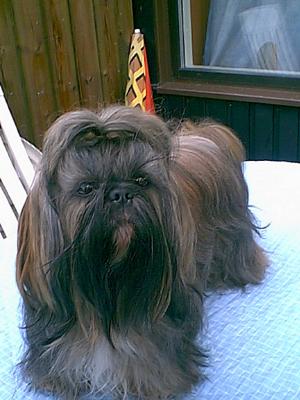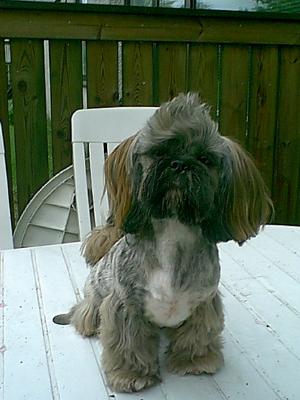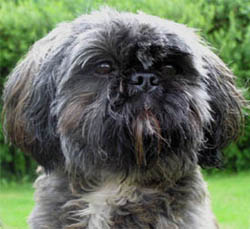 DKUCH SUCH
Fossella Cottoneyed Joe
INTUCH NORDUCH
Skånhedens Pale Rider
NUCH SUCH
Fossella Thubten Jigme Norbu
Wupiwo Sunlite Sushanna
SUCH
Jessame's Lagacy Li-Jen
NUCH SUCH
Shieriko's Ringo Star
Mango's She's A Lady
Tultan's Cita
Gärborgens Bonzo
SUCH
Tangse Chagall
Sou Tsian's Chippa
Tultan's Candy
Blackie
Mamsell
With Signe my breeding really got started, she might not be the most beautiful Shih-Tzu in the world, but her temperament is super!
She has had four litters that has become extremly good pet-dogs and some of them really good show.dogs.
She is retired from breeding.